---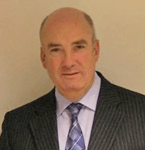 Joined Barclays Bank in 1976 and worked his way through the ranks throughout the North West, with matters of note: Headed teams of retail sales personnel, looking after the bank's personal customers' requirements for mortgages, loans and credit cards etc.
In charge of business development activities in the retail and corporate sectors for small and medium sized businesses, before taking up the position of Head of Corporate Credit for medium sized businesses in the North West Region, tasked with managing the risk of the bank's lending portfolio for that region. During this period Carl was instrumental in formulating and introducing new systems for managing 'lending risk' within both the Personal and Small Business sectors, becoming one of the bank's experts on lending to hotels and the tourist industry.
Following managerial appointments heading up corporate relationship teams, he concluded his banking career as Regional Corporate Director for the Merseyside and North Cheshire region, with responsibilities for the bank's operations looking after small and medium sized businesses. After a career spanning 26 years Carl left the bank to run his own company offering financial solutions to private individuals and businesses, whilst also taking up directorships in a number of other businesses in an advisory capacity.
Carl joined Begbies Traynor in August 2006 with responsibilities to develop their debt management service, before being appointed Managing Director of the W3 group of businesses to develop the overall debt solutions services to private consumers in financial difficulties. Following changes to the way in which personal insolvencies were handled between the creditor and insolvency community, Carl headed up the management buyout of National Money from Begbies Traynor Plc in 2008. Later in the year, he joined the Personal Insolvency management team at Grant Thornton, taking responsibility for the acquisition and integration of major insolvency portfolios purchased by the firm, before returning to National Money in July 2009.
---