Discover how a business mentor can help you. Both new start and experienced business owners need assistance from others from time to time. After all, we don't know everything, do we?
Whether you choose to read business books. Listen to podcasts, watch YouTube or trawl the internet for help and tips. Although often these are not enough on their own. Talking with an experienced business mentor giving you one-one advice can boost your own knowledge, belief and confidence.
I have put together my seven key reasons. For how a business mentor can help you, to grow your business and your own confidence, skills and knowledge.
Seven Reasons why a business mentor can help you.
1. The ability to ask questions that matter to you.
Having a business mentor in your life gives you the ability to ask questions that matter to you. I am sure we have all come across that family member, friend or stranger who seems to have all the answers. Who wants to offer you all the advice without any of the experience or knowledge. A business mentor will help guide you through which advice you should follow.
2. The ability to vent to someone you trust.
With workplace health and wellbeing, being so high on most agendas for employees, do not forget – yourself. With all the stresses of running your own business, it is important that you have someone you can trust. That you can vent your frustrations too. Let's be honest you cannot tell your employees or your family that you are worried about cash flow, or how you will manage to pay the next wage roll or your mortgage. But by venting to your mentor you will be able to find a way to work around or solve your problems, with a positive solution.
3. Expand your network of contacts.
A good mentor will have built up a network of contacts over their time in business. They will often share these contacts where they feel this would be beneficial to both you and the contact.
During my mentoring Carl provided me with invaluable guidance. Offering a fantastic insight into running and developing a business and helping me to establish a "firm footing". In addition, he has a network of contacts like no one I have ever met, he is a one-man "BNI".

Terry Larkin.
4. You are more likely to succeed with a business mentor.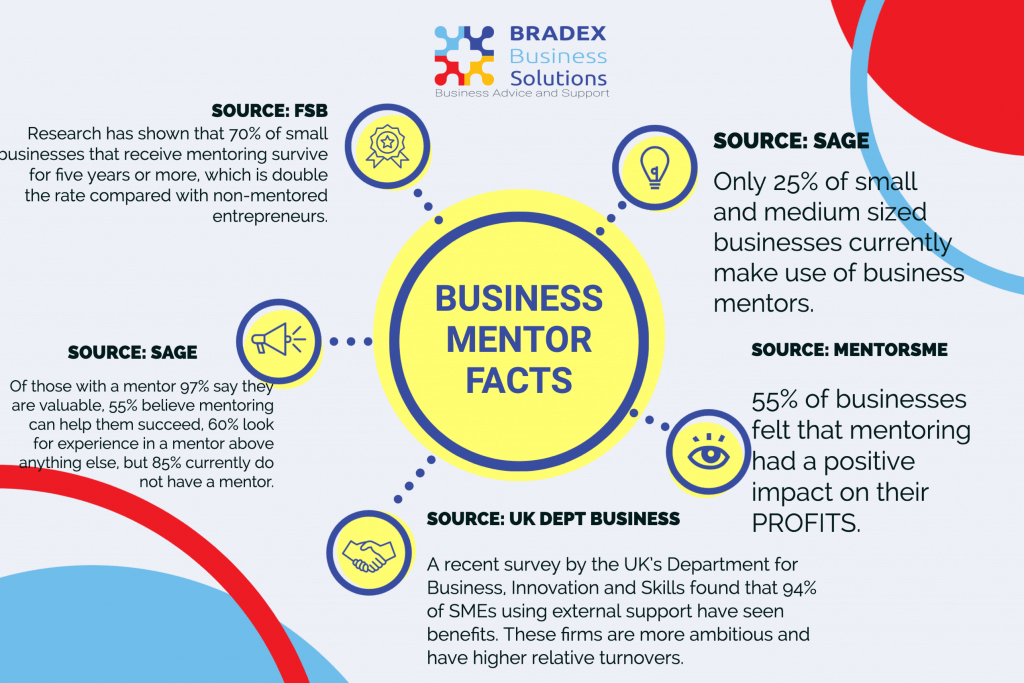 5. A fresh pair of eyes.
Often as a business owner, we can become attached to the way we do things. A particular path in which we wish to drive our business. A fresh pair of experienced eyes from your business mentor can help you evaluate the pro's and the con's of each approach and assist you to make a more informed decision.
6. Step out of your comfort zone.
A good business mentor will challenge you to grow. To take on the tasks and activities that you wouldn't normally do. Such as sales, marketing, public speaking or networking. By using a mixture of wisdom, support and guidance. A business mentor can boost your confidence and encourage you to take on the world one step at a time.
7. A seasoned sounding board.
As a business mentor, I spend most of my time listening to others. Their problems, ideas and plans for the future. Because we are seasoned, experienced business owners. We can often add the missing piece of your jigsaw. That final piece of the puzzle that enables you to move forward.
A great business mentor will provide confidential, impartial advice and guidance that is specific to you and your business. They will take the time to get to know you, your business and your goals and ambitions.
Do not think that having a mentor will mean you will have someone to always take your side and agree with you. A great business mentor will be honest with you throughout your relationship and will sometimes give you the honest truth you did not necessarily want to hear.
Business mentoring comes in many guises. Usually face to face, although with the modern technological advantages. It is now becoming easier and easier to access your mentor when you need them most, almost a virtual business mentor service.
What is the cost of using a business mentor? Costs obviously vary whether you want face to face guidance or virtual service. Follow any of the links to find out more.