LinkedIn – Business Networking Online
When exploring Business Networking Online with my mentee clients. I am regularly get asked about LinkedIn, and other social media, how do I get it to work for me? is it worth

me investing time on LinkedIn? So I thought I would put together some useful Business Networking Online tips starting with LinkedIn.
Your LinkedIn Profile
Your LinkedIn profile page is your shop window in selling your brand 'you'. Ensure that you have fully compiled your profile. Including work history, education, special skills, volunteering and the all-important recommendations. Remember, people, buy people, not products or services.
How does your profile rank in LinkedIn?
There are a couple of ways of checking your profile ranking in LinkedIn. If you look at your own profile.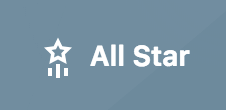 Below your header there is a dashboard on the top right is your profile ranking. There are five different rankings with the top being All-Star.
The second way to check your rank on your profile is to use the Social Selling Index this measures how effective you are at establishing your professional brand, about finding the right people for you, engagement and building and developing relationships. For example, mine is below:
Top Five LinkedIn Tips to Improve your Profile – Business Networking Online
So by now, you know where your profile ranks, what your Social Selling Index score is and now you want to improve your profile so with a little research I have come up with my top 5 tips for improving your LinkedIn profile.
1. Blog, well write articles for your profile, (example: A Day in the Life of a Business Mentor) You should write about your strengths, for instance, if you are an Accountant write about Tax issues or the Five most common issues with filing your tax return.
2. Update your profile regularly (I know this sounds like common sense) make sure you utilise the new features for updating i.e. embedding media – images, and website links.
3. Headshots, it is worthwhile investing in a professional photographer to take your photographs. Remember this is the first thing people notice about your profile.
4. Write a vibrant profile, make sure to use colourful eye-catching graphics and videos. The more you keep the reader's attention the more they will read your profile – which leads to enquiries.
5. Headlines, make sure you take advantage of your profile headline (the text just below your name) write engaging text, avoid tech speak, or internal industry lingo. Give the reader an idea of you and what you are offering.
For a one-one mentoring session about how to to get the most your of LinkedIn check out our services.
Business Networking Online in LinkedIn Groups
A missed opportunity? with LinkedIn, steadily growing its user numbers to over 500 million, Groups are a way of getting to a niche market of business professionals that other social media sites do not offer. If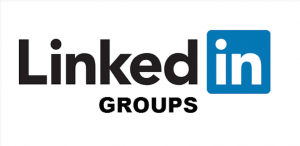 you are looking to grow your connections then groups are something you should look at.
Beware, however, pushing sales SPAM based messages into groups will either get you banned or quickly ignored. Remember reputation is built in years and lost in minutes.
Now the mistakes I first made on Linkedin Groups was joining lots of industry-based groups with lots of other people just like me selling the same services and products. This is not the right thing to do!
Consider your customers or clients for a moment, take a fresh look at your client persona, where do they congregate online? If your target market is small business, consider joining the local chamber of commerce, or Federation of Small Business group. Don't just stop there consider geography, where do your clients' businesses reside? For example, I run the Lancashire Business Networking Group on LinkedIn among other, and this has some 4,000 members, who either work in Lancashire or serve Lancashire based businesses.
Remember, DO NOT SPAM. Engage in discussion within the group, add useful outside resource, comment and interact with members. This activity will bring more views to your personal profile, and more views mean more connections.
LinkedIn Business Pages
If you want your brand/logo to appear on your profile page next to your experience, then you can accomplish this with business pages. This gives you a second place to push posts about your products and services, accomplishments as a business or your corporate message.
There is a regular competition for the best business pages on LinkedIn and I have selected two from the top 10 of 2017 to demonstrate the usefulness.
LinkedIn Mobile App Features
There are the common features of the application that everyone uses, and then there are the 'let's call

them hidden features'. The application is available across most devices from your appstore. Easy to use, and gives you the ability to stay in touch on the move.
Business Networking Online – Staying in Touch
So we take all that time and effort to find new contacts. Then we add them to our LinkedIn first degree connections, and we forget them. No!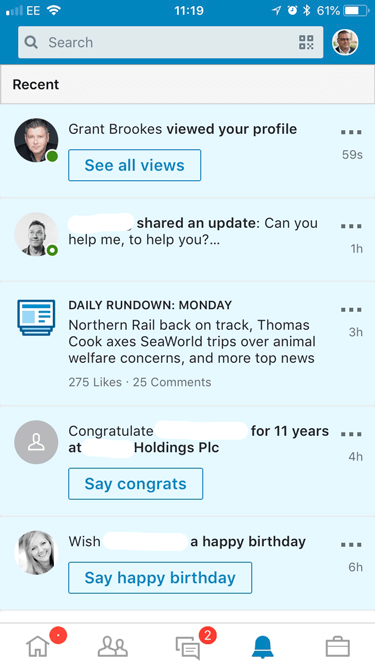 What we should do is stay in touch. We should make sure that we touch base with each and every contact at least once a year. With the LinkedIn application, we can make that contact count. When they move jobs, get promoted or have their birthday. Its easy and clicking a button.
Take a look at the image on the left, this is an example of the screen for keeping in touch. By clicking the bell symbol from the home screen, you will see a list of moves and shakers, who viewed your profile and birthdays for today. Click on one of them. You will notice that the 'messenger' now gives you canonised message to send. Just send it and watch the conversation begin.
QR Code
Are you looking for an easy way to get new contacts? I stumbled over this function in the application and have been using it ever since. QR codes are scannable codes that you can use with any mobile.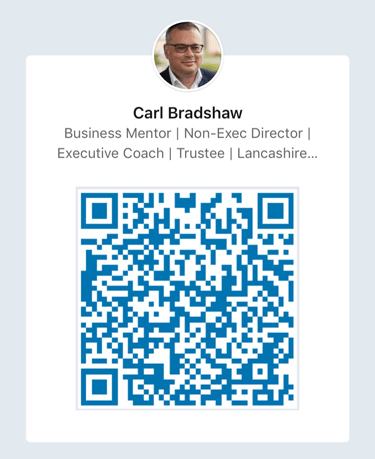 Later model iPhones have the functionality built into the camera just try it on mine now. If you want to find your personal QR code on LinkedIn then simply touch the three little squares at the end of the search bar. These can be downloaded as images and used on your marketing materials, ideal for the back of your business card.
ShareSlide
LinkedIn bought SlideShare in 2012. SlideShare is a slide hosting service which allows it users to upload

various types of documents. This is an underused resource that B2B business should make the most of. It is currently reported that only 17% of B2B marketing teams use this product. Perhaps they should reconsider it.
The Benefits of using SlideShare when Business Networking Online
1. Quick and easy to upload a document and share them.
2. SlideShare get regular visitors who may view your public documents.
3. Take advantage of the FREE account.
Hashtags to Follow
To discover the #hashtag communities on LinkedIn click the top right corner of the application on the homepage. Then discover what is trending, popular or appeals to you and follow it.
To discover more about #hashtages read this article by Amy Jones
Shapr App – Tinder for Business
Shapr is the new kid on the block, designed as a networking application for business, it is aimed at

business owners, looking to connect quickly with new people. The key again is in the conversation, there are some really good pre done ice breaker messages in the app. Use them to get started, it is suprising who responds. See examples below: